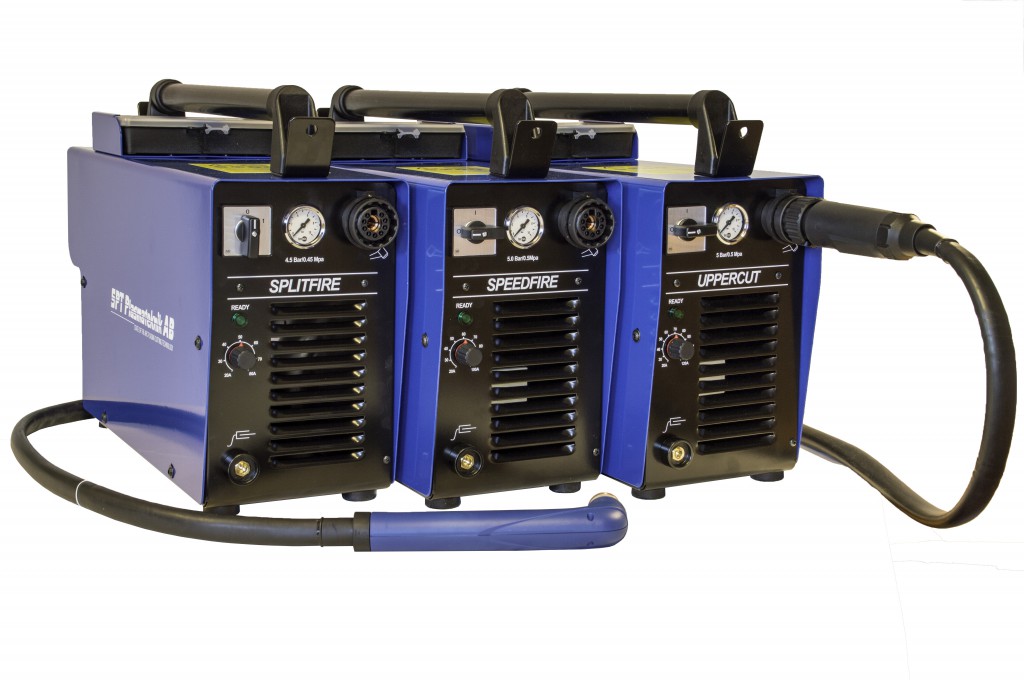 SPLITFIRE, SPEEDFIRE och UPPERCUT är bärbara luftplasmasystem med oerhört hög prestanda i förhållande till sin låga vikt, strömkällorna på 80, 100 och 120A väger endast 17-18 kg och skär upp till 25, 35 och 45mm godstjocklek.
Med luftplasmasystem kan man plasmaskära och bågmejsla stål, rostfritt, aluminium, mässing, koppar och andra elektriskt ledande material. 
Systemen levereras för manuell skärning med luftkylda handbrännaren PTA 121 som finns i längderna 6m och 15m. För mekaniserad skärning levereras systemet med maskinbrännaren PTM 120 som finns i längderna 6m och 12m. Fullt tillbehörsprogram med kontaktskärsköldar, skärstödsvagn, cirkelskäranordning med mera finns tillgängligt.                               
SPLITFIRE, SPEEDFIRE and UPPERCUT are portable air plasmasystems with extremely high performance in relation to their low weight, the power sources with 80, 100 and 120A only weighs 17-18 kg and cut up to 25, 35 and 45mm thickness.
With air plasma systems you can cut mild steel, stainless steel, aluminum, brass, copper and other electrically conductive materials.
The systems are supplied for manual cutting with air-cooled hand torch PTA 121 available in lengths of 6m and 15m. For mechanized cutting system is supplied with the machine torch PTM 120 available in lengths of 6m and 12m. Full range of accessories with contact cutting shields, cut support carriage, circle cutter, etc. are available.
| | | | |
| --- | --- | --- | --- |
| Teknisk data/Technical data | SPLITFIRE | SPEEDFIRE | UPPERCUT |
| Nätspänning/Power supply | 400V, 3~ 50/60Hz | 400V, 3~ 50/60Hz | 400V, 3~ 50/60Hz |
| Avsäkring/Fuse | 16 A trög/slow | 32A trög/slow | 32A trög/slow |
| Skenbar effekt/Maximum power | 12 kVA* | 14,5kVA* | 17kVA* |
| Processeffekt/Process power | 120V, 20-80A | 120V, 20-100A | 120V, 20-120A |
| Intermittensfaktor/Duty cycle | 50%,   @ 80A | 40%, @100A | 30%, @ 120A |
|   | 60%, @ 70A | 60%, @80A | 60%, @ 100A |
|   | 100%, @ 50A | 100%, @70A | 100%, @ 80A |
| Effekt faktor/Power factor | 0,95 | 0,95 | 0,95 |
| Tomgångsspänning/Open circuit voltage | 240 VDC | 240VDC | 240VDC |
| Skyddsklass/Protection class | IP 23 | IP23 | IP23 |
| Kylform/Cooling | F | F | F |
| Temperatur klass/Temperature class | F | F | F |
| Dimensioner LxBxH/Dimensions LxWxH | 560x190x320 | 560x190x320 | 560x190x320 |
| Vikt/Weight | 17 kg | 17 kg | 18 kg |
| Maximal skärkapacitet/Max cutting capacity | 25 mm | 35 mm | 45 mm |
| Kvalitetssnitt/Quality cut | 20 mm | 30mm | 40 mm |
| Tryck/flöde/Pressure/flow | 4,5 Bar / 160 l/min | 5,0 Bar / 190 l/min | 5,0 Bar / 190 l/min |
Prospekt SPLITFIRE Svenska
Prospekt SPEEDFIRE Svenska
Prospekt UPPERCUT Svenska
Leaflet SPLITFIRE English
Leaflet SPEEDFIRE English
Leaflet UPPERCUT English
Bruksanvisning  SPLITFIRE/SPEEDFIRE/UPPERCUT Svenska
Instruction manual SPLITFIRE/SPEEDFIRE/UPPERCUT English