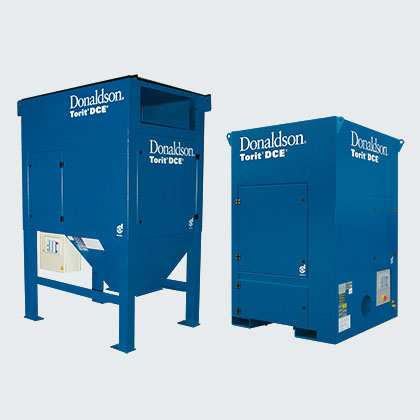 DFPRO
Donaldson Torit® DCE® DFPRO dust extractors are used to separate dust and smoke and have been specially developed for different uses such as Plasma, oxygen/acetylene and laser cutting. The DFPRO has oval filters, which makes dust and smoke filtration more efficient, more compact and more cost-effective. DFPRO comes in several designs: everything from small 3-cartridges to a 16-cartridges.
Main Features:
Flow from 2 000 to 16 000 m³/h

Assembled from factory

High efficiency oval cartridge filters and efficient filter media

The installation is smooth and simple and DFPRO is easy to maintain with easily accessible filters

Due to low pressure drop you save on energy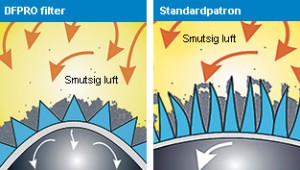 With custom oval cartridge filters for better Air Flow characteristics
When DFPRO oval filters are used in conjunction with our modern Nanofiltermedia, the dust is caught on the filter surface, resulting in low pressure drop and long service life. With oval cartridges, you can handle up to 25% more airflow than traditional round filters without increasing the wear of the cartridge.
Features and benefits of DFPRO-Cartridge Dust collector
Spark trap with low pressure drop
A fully integrated system with control valve, several different fans, cleaning mechanism and Torit Dashboard
No extra wiring between unit and fan
Can be installed in a corner
Easy Dust Handling
can be installed outdoors
Leaflet DFPRO Filter System
Technical data DFPRO Filter System