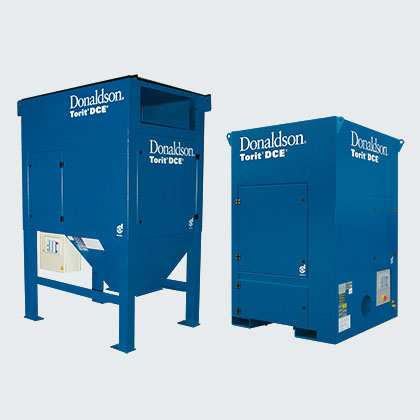 DFPRO
Donaldson Torit® WFD® DFPRO dust collectors are used to remove dust and fumes and have been specifically designed for various applications such as plasma, oxygen/acetylene and laser cutting. The DFPRO has oval filters which makes dust and fume filtration more efficient, compact and cost effective. The DFPRO comes in several designs: from small 3-cartridge to a 16-cartridge.
Main functions:
Flow rate from 2 000 to 16 000 m³/h

Pre-assembled at the factory

High efficiency oval-shaped cartridge filters and efficient filter media

Installation is smooth and simple and the DFPRO is easy to maintain with easily accessible filters.

Low pressure drop saves energy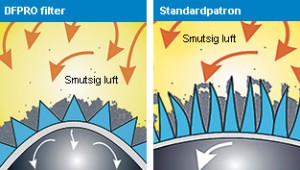 Tailor-made oval-shaped cartridge filters provide better airflow characteristics.
When DFPRO oval-shaped filters are used with our modern nanofilter media, the dust is trapped on the filter surface, resulting in low pressure drop and long service life. Oval-shaped cartridges can handle up to 25% more airflow than traditional round filters without increasing cartridge wear.
Features and benefits of DFPRO cartridge dust collectors
Low pressure drop spark trap
A fully integrated system with control valve, multiple fans, cleaning mechanism and Torit control panel.
No extra wiring between unit and fan
Can be installed in a corner
Easy dust management
Can be installed outdoors
Prospectus DFPRO filter system
Technical data DFPRO filter system