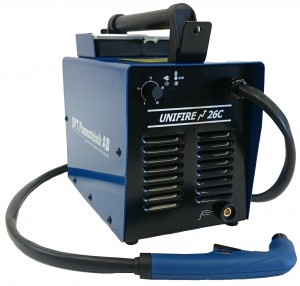 UNIFIRE 26C är ett enfas 25A bärbart plasmasystem med inbyggd kompressor som skär upp till 8mm godstjocklek.
UNIFIRE 26C är med sin inbyggda kompressor det självklara valet när man har behov för ett helt mobilt system. Anslut bara elkraft! 
UNIFIRE 26C är lätt att bära, sätta upp och använda. Perfekt till alla mobila skärapplikationer som exempelvis stålkonstruktioner på byggarbetsplatser, ventilationstrummor, service & underhåll osv.
• UNIFIRE 26C is a single phase 25A portable plasmasystem with built in compressor that can cut up to 8mm thickness.
• UNIFIRE 26C is with its built in compressor the given choice when you have the need for a completely portable system.
• Just connect power! UNIFIRE 26C is easy to carry, setup and to use.
• Perfect for all mobile cuttting applications such as steel construction at construction sites, ventilation ducts, service & maintenance, etc.
Teknisk data/Technical data

UNIFIRE 26C

Nätspänning/Power supply

230V, 1~ 50/60Hz

Avsäkring/Fuse
16A@230V trög/slow blow
Maximal skenbar effekt/Maximum power

3,5 kVA

Processeffekt/Process power

95V, 5-25A

Intermittensfaktor/Duty cycle

25%, @ 25A

Effekt faktor/Power factor

 0,95

Tomgångsspänning/Open circuit voltage

424 VDC

Skyddsklass/Protection class
 

IP23S

Kylform/Cooling

F

Temperatur klass/Temperature class

F

Dimensioner LxBxH/Dimensions LxWxH

390x225x360

Vikt/Weight

13 kg

Maximal skärkapacitet/Max cutting capacity

8 mm

Kvalitetssnitt/Quality cut

6 mm

Tryck/flöde / Pressure/flow
Inbyggd kompressor/Built-in compressor
Prospekt UNIFIRE 26C Svenska/Swedish
Leaflet UNIFIRE 26C  Engelska/English
Bruksanvisning UNIFIRE 26C Svenska/Swedish
Instruction manual UNIFIRE 26C  Engelska/English